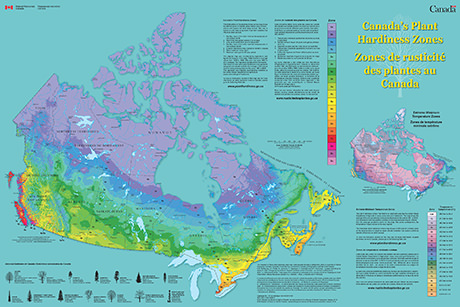 Canada Hardiness Zones
The 'Plant Hardiness Zone Map of Canada' outlines the different zones within Canada in which various types of trees, shrubs and plants will most likely survive. It is based on the average climatic conditions of each area and is an excellent starting point if you are wondering if a particular plant will over-winter (survive the coolest temperatures) in your area.
By using this map, you can choose the best plants that will be more likely to thrive in your location. For example, when Veseys lists a perennial plant as being suitable for Zones 3-8, this means that if you live in an area within that range, this plant would be suitable for your location.
The data and zone map information here simply reflects the most recent data collected and presented by Natural Resources Canada. Gardeners should understand that this map is a guide only – not a guarantee of gardening success, as climatic conditions are constantly changing and there are many other factors that can affect the success and failure of plants. As well as using this map for reference, we recommend consulting other gardeners who have 'hands-on' experience of weather and gardening patterns in your area.
Along with year-to-year variations in weather, microclimates can also play a role in determining the right plants for your garden. Microclimates, which are small areas of varying weather conditions within larger zones, can be caused by local geography of the area such as hills and valleys as well as variations of solar and wind exposure. Even buildings and pavement in urban areas can create relatively small microclimates that can potentially produce different gardening results.
The newly amended Canadian Hardiness Zone map is divided into ten major zones: the hardiest is 0 and the mildest is 9 (the southern tip of Vancouver Island). Relatively few plants are suited to zones 0 and 1.
---
Canadian Frost Dates
Frost dates are arranged by region and include the first frost date of the season and the final frost date of the season. This simply means a period of time where you can safely set your plants out in your garden ensuring them with optimal growing temperatures during both day and night.
These frost dates reflect the average frost date for a region and may not be reliable in a particular year. You may want to check with local gardeners for more accurate frost date information as there are many variables such as microclimates within an area can cause fluctuations of the frost dates listed below.
Newfoundland & Labrador
| Location | Last Frost | First Frost |
| --- | --- | --- |
| Corner Brook | May 21-31 | October 11-20 |
| Grand Falls | May 21-31 | October 1-10 |
| St. John's | May 21-31 | October 11-20 |
Nova Scotia
| Location | Last Frost | First Frost |
| --- | --- | --- |
| Halifax | April 21-30 | October 11-20 |
| Kentville | May 11-20 | October 1-10 |
| Shelburne | May 1-10 | September 11-20 |
| Sydney | May 11-20 | October 11-20 |
| Yarmouth | April 21-30 | October 11-20 |
Prince Edward Island
| Location | Last Frost | First Frost |
| --- | --- | --- |
| Charlottetown | May 11-20 | October 11-20 |
| Summerside | May 21-30 | October 1-10 |
| Tignish | May 1-10 | October 1-10 |
New Brunswick
| Location | Last Frost | First Frost |
| --- | --- | --- |
| Bathurst | May 11-20 | September 21-30 |
| Edmunston | May 11-20 | September 21-30 |
| Fredericton | May 11-20 | September 21-30 |
| Grand Falls | May 11-20 | September 21-30 |
| Moncton | May 11-20 | October 1-10 |
| Saint John | May 1-10 | October 21-30 |
Québec
| Location | Last Frost | First Frost |
| --- | --- | --- |
| Baie-Comeau | May 21-31 | September 11-20 |
| Chicoutimi | April 21-31 | September 11-20 |
| Montréal | April 21-30 | October 1-10 |
| Québec | May 1-10 | September 21-30 |
| Rimouski | May 11-20 | October 11-20 |
| Sherbrooke | May 11-20 | September 21-30 |
| Trois-Rivières | May 11-20 | September 21-30 |
| Thetford Mines | May 11-20 | September 21-30 |
Ontario
| Location | Last Frost | First Frost |
| --- | --- | --- |
| Barrie | May 11-20 | October 1-10 |
| Hamilton | May 1-10 | October 11-20 |
| Kingston | April 21-30 | October 1-10 |
| London | May 1-10 | October 1-10 |
| Ottawa | May 1-10 | October 1-10 |
| Owen Sound | May 1-10 | October 1-10 |
| Parry Sound | May 21-31 | September 11-20 |
| Peterborough | May 1-10 | September 21-30 |
| St. Catharines | May 21-30 | November 1-10 |
| Sudbury | May 11-20 | September 21-30 |
| Thunder Bay | June 21-31 | September 11-20 |
| Timmins | June 1-10 | September 11-15 |
| Toronto | May 11-20 | November 1-10 |
| Windsor | April 11-20 | October 21-31 |
Manitoba
| Location | Last Frost | First Frost |
| --- | --- | --- |
| Brandon | May 21-31 | September 11-20 |
| The Pas | May 21-31 | September 11-20 |
| Thompson | June 11-20 | August 11-20 |
| Winnipeg | May 21-31 | September 21-30 |
Saskatchewan
| Location | Last Frost | First Frost |
| --- | --- | --- |
| Moose Jaw | May 11-20 | September 11-20 |
| Prince Albert | May 21-31 | September 11-20 |
| Regina | May 11-20 | September 11-20 |
| Saskatoon | June 1-10 | September 11-20 |
| Weyburn | May 11-20 | September 11-20 |
Alberta
| Location | Last Frost | First Frost |
| --- | --- | --- |
| Athabasca | May 21-31 | September 1-10 |
| Calgary | May 11-20 | September 11-20 |
| Edmonton | May 1-10 | September 11-20 |
| Grande Prairie | May 11-20 | September 1-10 |
| Lethbridge | May 21-31 | September 1-10 |
| Medicine Hat | May 11-20 | September 21-30 |
| Red Deer | May 11-20 | September 11-20 |
British Columbia
| Location | Last Frost | First Frost |
| --- | --- | --- |
| Chilliwack | April 1-10 | November 11-20 |
| Dawson Creek | May 11-20 | September 11-20 |
| Kamloops | May 1-10 | October 1-10 |
| Kelowna | April 21-30 | October 21-31 |
| Nanaimo | April 1-10 | November 1-10 |
| Port Alberni | May 1-10 | October 11-20 |
| Prince George | May 21-31 | September 11-20 |
| Terrace | May 11-20 | October 11-20 |
| Vancouver | March 21-31 | November 11-20 |
| Vernon | April 11-20 | October 21-31 |
| Victoria | March 1-10 | November 11-20 |
Territories
| Location | Last Frost | First Frost |
| --- | --- | --- |
| Whitehorse | June 10-20 | August 20-28 |
| Dawson City | June 10-15 | August 29 – September 5 |
| Yellowknife | May 25-30 | September 10-17 |