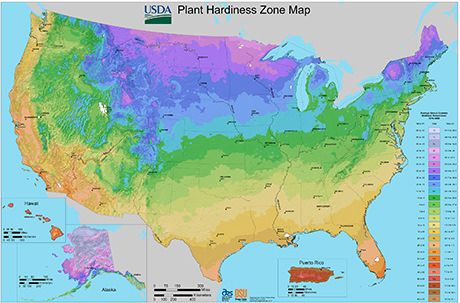 United States Hardiness Zones
The 'USDA Plant Hardiness Zone Map' outlines the different zones in which various types of trees, shrubs and plants will most likely survive. It is based on average extreme low temperatures over a 30 year period—not just the lowest temperature ever reached at any given time. Gardeners should understand that this map is a guide only – not a guarantee of gardening success, as climatic conditions are constantly changing and there are many other factors that can affect the success and failure of plants.
This map is an excellent starting point however if you are wondering if a certain plant will generally over-winter (survive the coolest temperatures). As well as using this map for reference, we recommend consulting other gardeners who have 'hands-on' experience of weather and gardening patterns in your area.
Along with year-to-year variations in weather, microclimates can also play a role in determining the right plants for your garden. Microclimates, which are small areas of varying weather conditions within larger zones, can be caused by local geography of the area such as hills and valleys as well as variations of solar and wind exposure. Even buildings and pavement in urban areas can create relatively small microclimates that can potentially produce different gardening results.
---
United States Frost Dates
Frost dates are arranged by region and include the first frost date of the season and the final frost date of the season. This simply means a period of time where you can safely set your plants out in your garden ensuring them with optimal growing temperatures during both day and night.
These frost dates reflect the average frost date for a region and may not be reliable in a particular year. You may want to check with local gardeners for more accurate frost date information.
Alabama – Indiana
Alabama
| Station | Last Frost | First Frost |
| --- | --- | --- |
| Birmingham | April 23 | October 23 |
| Dayton | April 18 | October 16 |
| Mobile | March 29 | October 30 |
| Ozark | April 10 | October 25 |
| Thomasville | April 19 | October 18 |
| Tuscaloosa | April 20 | October 15 |
Alaska
| Station | Last Frost | First Frost |
| --- | --- | --- |
| Barrow | August 3 | July 30 |
| Beaver Falls | June 2 | September 29 |
| Fairbanks | June 21 | August 14 |
| Juneau | June 20 | August 23 |
| Ketchikan | May 29 | September 25 |
| Nome | July 24 | August 2 |
| Seward | June 6 | September 8 |
Arkansas
| Station | Last Frost | First Frost |
| --- | --- | --- |
| Batesville | May 15 | September 29 |
| Fayetteville | May 9 | November 29 |
| Fort Smith | April 28 | October 6 |
| Hot Springs | April 21 | October 18 |
| Newport | April 23 | October 8 |
| Pine Bluff | April 16 | October 14 |
| Texarkana | April 22 | October 22 |
Arizona
| Station | Last Frost | First Frost |
| --- | --- | --- |
| Flagstaff | July 3 | August 16 |
| Holbrook | June 16 | September 13 |
| Phoenix | March 23 | November 9 |
| Snowflake | June 20 | September 13 |
| Tucson | April 17 | November 5 |
| Yuma | March 11 | November 21 |
California
| Station | Last Frost | First Frost |
| --- | --- | --- |
| Auburn | May 13 | October 30 |
| Berkeley | March 5 | December 1 |
| Chico | May 7 | October 19 |
| Eureka | April 25 | November 5 |
| Fresno | April 27 | November 27 |
| Lodi | May 2 | October 18 |
| Palm Springs | April 7 | November 6 |
| Pasadena | April 4 | November 21 |
| Sacramento | April 28 | November 2 |
| San Francisco | March 20 | November 20 |
| San Luis Obispo | May 8 | November 1 |
| UCLA | January 3 | January 1 |
Colorado
| Station | Last Frost | First Frost |
| --- | --- | --- |
| Boulder | May 31 | September 12 |
| Denver | June 1 | September 10 |
| Durango | July 1 | August 24 |
| Estes Park | July 19 | August 11 |
| Las Animas | May 25 | September 15 |
| Norwood | June 28 | August 20 |
| Steamboat Springs | August 2 | July 31 |
| Sterling | May 30 | September 5 |
Connecticut
| Station | Last Frost | First Frost |
| --- | --- | --- |
| Panbury | June 1 | September 14 |
| Hartford Brainard | May 25 | September 15 |
| Mount Carmel | May 29 | September 15 |
| Norfolk | June 11 | September 9 |
| Norwalk | May 24 | September 21 |
| Storrs | May 29 | September 20 |
| W. Thompson Dam | June 14 | August 20 |
Delaware
| Station | Last Frost | First Frost |
| --- | --- | --- |
| Bridgeville | May 10 | September 26 |
| Dover | May 6 | October 5 |
| Georgetown | May 18 | September 24 |
| Lewes | May 4 | October 6 |
| Milford | May 14 | September 25 |
| Wilmington | May 10 | October 3 |
| Wheaton | June 1 | September 16 |
| Windsor | May 20 | September 22 |
Florida
| Station | Last Frost | First Frost |
| --- | --- | --- |
| Fort Pierce | March 3 | December 5 |
| Gainesville | April 5 | October 30 |
| Jacksonville Beach | March 24 | November 8 |
| Miami | February 7 | December 30 |
| Sanford | March 14 | November 16 |
| Tallahassee | April 12 | October 20 |
| Tampa | March 11 | November 15 |
Georgia
| Station | Last Frost | First Frost |
| --- | --- | --- |
| Athens | April 21 | October 14 |
| Augusta | April 26 | October 12 |
| Brunswick | March 31 | November 5 |
| Columbus | April 16 | October 20 |
| Macon | April 14 | October 14 |
| Savannah | April 11 | October 26 |
| Waycross | April 22 | October 15 |
Hawaii
| Station | Last Frost | First Frost |
| --- | --- | --- |
| Haleakala | June 16 | October 15 |
| Hilo | none | none |
| Lahaina | none | none |
| Lihue | none | none |
Idaho
| Station | Last Frost | First Frost |
| --- | --- | --- |
| Boise | June 9 | September 13 |
| Kellogg | July 4 | August 23 |
| Moscow | July 23 | August 14 |
| Pocatello | June 25 | August 24 |
| Salmon | July 12 | August 19 |
| Sandpoint | July 8 | August 19 |
| Shoshone | June 25 | August 31 |
Illinois
| Station | Last Frost | First Frost |
| --- | --- | --- |
| Cairo | April 16 | October 21 |
| Chicago | May 17 | September 30 |
| Peoria | May 23 | September 25 |
| Rockford | May 26 | September 19 |
| Springfield | May 16 | September 27 |
| Wheaton | June 1 | September 16 |
| Windsor | May 20 | September 22 |
Indiana
| Station | Last Frost | First Frost |
| --- | --- | --- |
| Columbia City | May 25 | September 15 |
| Evansville | May 10 | October 4 |
| Hobart | May 31 | September 24 |
| Indianapolis | May 19 | September 28 |
| Mount Vernon | May 9 | October 1 |
| Princeton | May 15 | September 29 |
| South Bend | May 27 | September 20 |
| Terre Haute | May 23 | September 23 |
Iowa – Mississippi
Iowa
| Station | Last Frost | First Frost |
| --- | --- | --- |
| Ames | May 22 | September 15 |
| Cedar Rapids | May 25 | September 16 |
| Clarinda | May 7 | September 12 |
| Davenport | May 10 | September 29 |
| Le Mars | May 31 | September 9 |
| Mason City | May 30 | September 9 |
| Ottumwa | May 14 | September 26 |
Kansas
| Station | Last Frost | First Frost |
| --- | --- | --- |
| Dodge City | May 11 | September 29 |
| Goodland | May 27 | September 13 |
| Newton | May 11 | September 29 |
| Phillipsburg | May 19 | September 18 |
| Salina | May 13 | September 28 |
| Topeka | May 15 | September 23 |
| Troy | May 15 | September 23 |
Kentucky
| Station | Last Frost | First Frost |
| --- | --- | --- |
| Bowling Green | May 11 | October 2 |
| Ford's Ferry | April 30 | October 7 |
| Lexington | May 13 | September 30 |
| Middlesboro | May 23 | September 25 |
| Owensboro | May 11 | September 26 |
| Paducah | May 7 | October 4 |
| Vanceburg | May 31 | September 21 |
Louisiana
| Station | Last Frost | First Frost |
| --- | --- | --- |
| Alexandria | April 5 | October 21 |
| Bastrop | April 13 | October 18 |
| Bunkie | April 2 | October 22 |
| Elizabeth | April 10 | October 15 |
| Houma | March 24 | October 30 |
| Lafayette | April 27 | October 26 |
| New Orleans | April 4 | October 30 |
Maine
| Station | Last Frost | First Frost |
| --- | --- | --- |
| Houlton | July 3 | August 25 |
| Lewiston | April 23 | September 19 |
| Portland | June 4 | September 8 |
| Presque Isle. | June 18 | August 23 |
| Ripogenus | June 16 | September 7 |
| Rumford | June 14 | September 5 |
| Waterville | June 9 | September 6 |
Maryland
| Station | Last Frost | First Frost |
| --- | --- | --- |
| Baltimore City | April 21 | October 19 |
| Cambridge | May 6 | September 30 |
| Crisfield Somers Cove | April 18 | October 19 |
| Hagerstown | April 18 | September 22 |
| Laurel | May 5 | October 5 |
| Pocomoke City | May 22 | September 23 |
| Salisbury | May 9 | September 30 |
Massachusetts
| Station | Last Frost | First Frost |
| --- | --- | --- |
| Amherst | June 8 | September 2 |
| Birch Hill Dam | June 25 | August 14 |
| Blue Hill | May 18 | September 23 |
| Haverhill | May 23 | September 18 |
| New Bedford | May 3 | October 10 |
| Rochester | June 1 | September 13 |
| Worchester | May 23 | September 21 |
Michigan
| Station | Last Frost | First Frost |
| --- | --- | --- |
| Cheboygan | June 11 | September 15 |
| Evart | June 29 | August 13 |
| Lansing | June 8 | September 9 |
| Marquette | June 5 | September 19 |
| Muskegon | June 4 | September 9 |
| Pontiac | May 31 | September 18 |
| Sault Ste Marie | June 23 | August 29 |
| Traverse City | June 22 | September 6 |
Minnesota
| Station | Last Frost | First Frost |
| --- | --- | --- |
| Canby | May 30 | September 8 |
| Duluth | June 22 | August 27 |
| Faribault | June 2 | September 8 |
| Hallock | June 15 | August 27 |
| Intnl Falls | June 30 | August 21 |
| Marshall | May 24 | September 12 |
| Warroad | June 16 | August 21 |
Mississippi
| Station | Last Frost | First Frost |
| --- | --- | --- |
| Biloxi | March 27 | October 31 |
| Columbus | April 21 | October 7 |
| Gulfport | March 27 | October 27 |
| Holly Springs | April 30 | October 2 |
| Meridian | April 17 | October 10 |
| Natchez | April 12 | October 21 |
| Yazoo City | April 15 | October 10 |
Missouri – Oregon
Missouri
| Station | Last Frost | First Frost |
| --- | --- | --- |
| Canton | May 14 | September 22 |
| Charleston | May 4 | October 2 |
| Jefferson City | May 22 | September 20 |
| Joplin | May 5 | October 4 |
| Maryville | May 12 | September 24 |
| Macon | May 21 | September 14 |
| Maryville | May 1 | October 2 |
Montana
| Station | Last Frost | First Frost |
| --- | --- | --- |
| Montana | | |
| Billings | June 10 | September 1 |
| Bozeman | June 3 | July 30 |
| Brady Aznde | July 21 | August 12 |
| Chinook | June 19 | August 22 |
| Choteau | June 27 | August 26 |
| Helena | June 23 | August 25 |
| Libby | August 3 | August 3 |
Nebraska
| Station | Last Frost | First Frost |
| --- | --- | --- |
| Ainsworth | May 31 | September 10 |
| Falls City | May 9 | September 25 |
| Grand Island | May 21 | September 12 |
| North Platte | June 1 | September 4 |
| Scottsbluff | June 4 | September 4 |
| York | May 18 | September 18 |
Nevada
| Station | Last Frost | First Frost |
| --- | --- | --- |
| Boulder City | April 9 | November 10 |
| Carson City | July 8 | August 18 |
| Ely | July 14 | August 13 |
| Las Vegas | April 19 | October 31 |
| Reno | July 9 | August 12 |
| Wells | July 21 | August 5 |
| Winnemucca | July 9 | August 12 |
New Hampshire
| Station | Last Frost | First Frost |
| --- | --- | --- |
| Concord | June 21 | August 21 |
| Hanover | June 13 | September 9 |
| Keene | June 19 | August 24 |
| Lake Port | May 26 | September 18 |
| Mt. Washington | August 3 | July 31 |
| Nashua | June 15 | September 1 |
| Surry Mountain | June 18 | August 25 |
New Jersey
| Station | Last Frost | First Frost |
| --- | --- | --- |
| Hammonton | May 19 | September 23 |
| Jersey City | April 30 | October 9 |
| Millville | May 13 | September 27 |
| Newark | April 26 | October 13 |
| Newton | June 6 | September 9 |
| Shiloh | May 12 | October 2 |
| Trenton | April 29 | October 11 |
New Mexico
| Station | Last Frost | First Frost |
| --- | --- | --- |
| Aztec Ruins Nat. Mon. | June 18 | September 8 |
| Carlsbad Caverns | April 27 | October 18 |
| Fort Sumner | May 15 | September 28 |
| Las Vegas | June 3 | September 15 |
| Lordsburg | May 25 | October 11 |
| Socorro | May 22 | September 27 |
| Springer | June 8 | September 12 |
New York
| Station | Last Frost | First Frost |
| --- | --- | --- |
| Albany | June 5 | September 12 |
| Dannemora | June 6 | September 11 |
| Elmira | April 26 | September 8 |
| New York | May 28 | October 19 |
| Syracuse | June 4 | September 18 |
| Watertown | May 18 | September 13 |
North Carolina
| Station | Last Frost | First Frost |
| --- | --- | --- |
| Elizabeth City | May 2 | October 11 |
| Greensboro | May 12 | October 5 |
| Hickory | May 7 | October 4 |
| Lumberton | May 10 | October 5 |
| Morehead City | April 17 | October 22 |
| Raleigh | May 11 | October 6 |
| Waynesville | May 31 | September 20 |
North Dakota
| Station | Last Frost | First Frost |
| --- | --- | --- |
| Cavalier | June 11 | August 27 |
| Jamestown | June 9 | August 28 |
| Linton | June 27 | August 28 |
| Minot | June 8 | August 29 |
| New Salem | June 21 | August 17 |
| Wahpeton | May 31 | September 6 |
Ohio
| Station | Last Frost | First Frost |
| --- | --- | --- |
| Akron | May 29 | September 26 |
| Athens | June 8 | September 10 |
| Cinicinnati | May 12 | October 1 |
| Columbus | May 23 | September 23 |
| Dayton | May 19 | September 26 |
| Lima | May 24 | September 15 |
| Sandusky | May 10 | October 2 |
| Youngstown | June 6 | September 17 |
Oklahoma
| Station | Last Frost | First Frost |
| --- | --- | --- |
| Boise City | May 9 | September 21 |
| Chattanooga | April 29 | October 10 |
| Idabel | April 24 | October 12 |
| Kingfisher | May 6 | October 6 |
| Lawton | April 24 | October 13 |
| Perry | May 1 | October 7 |
| Tulsa | April 27 | October 13 |
Oregon
| Station | Last Frost | First Frost |
| --- | --- | --- |
| Brookings | May 6 | October 28 |
| Condon | July 11 | August 16 |
| Eugene | June 10 | September 15 |
| Grizzly | August 6 | July 30 |
| Newport | May 30 | September 27 |
| Pendleton | May 23 | August 22 |
| Portland | May 15 | October 3 |
Pennsylvania – Wyoming
Pennsylvania
| Station | Last Frost | First Frost |
| --- | --- | --- |
| Allentown | May 19 | September 22 |
| Gettysburg | May 19 | September 23 |
| Johnstown | May 16 | September 16 |
| Pendelton | May 23 | September 22 |
| Portland | May 15 | October 3 |
| Meadville | June 8 | September 11 |
| Williamsport | May 21 | September 19 |
Rhode Island
| Station | Last Frost | First Frost |
| --- | --- | --- |
| Block Island | May 9 | October 13 |
| Kingston | June 5 | September 8 |
South Carolina
| Station | Last Frost | First Frost |
| --- | --- | --- |
| Anderson | April 26 | October 9 |
| Beaufort | April 13 | October 26 |
| Charleston City | March 28 | November 9 |
| Chester | May 8 | October 7 |
| Columbia | April 29 | October 13 |
| Union | May 16 | October 3 |
| Winnsbotle | May 2 | October 11 |
South Dakota
| Station | Last Frost | First Frost |
| --- | --- | --- |
| Castlewood | June 23 | August 29 |
| Custer | July 20 | August 7 |
| Gettysburg | June 4 | September 5 |
| Huron | June 4 | September 4 |
| Mobridge | May 30 | September 9 |
| Rapid City | June 9 | September 8 |
| Sioux Falls | June 4 | September 10 |
Tennessee
| Station | Last Frost | First Frost |
| --- | --- | --- |
| Chattanooga | April 3 | October 9 |
| Knoxville | April 22 | October 13 |
| Martin | May 4 | October 3 |
| Memphis | April 16 | October 18 |
| Nashville | April 30 | October 7 |
| Tullahoma | May 12 | October 3 |
| Union City | May 11 | September 28 |
Texas
| Station | Last Frost | First Frost |
| --- | --- | --- |
| Austin | March 31 | November 1 |
| Brownsville | March 7 | November 24 |
| Corpus Christi | March 9 | November 23 |
| Denton | April 20 | October 19 |
| Galveston | March 15 | November 21 |
| Lubbock | May 5 | October 8 |
| Pecos | April 25 | October 11 |
| San Antonio | April 10 | October 27 |
Utah
| Station | Last Frost | First Frost |
| --- | --- | --- |
| Black Rock | June 2 | August 20 |
| Cedar City | June 22 | September 5 |
| Logan | June 5 | September 13 |
| Nephi | June 16 | September 9 |
| Vernal | June 25 | August 19 |
| Wendover | May 19 | September 26 |
Vermont
| Station | Last Frost | First Frost |
| --- | --- | --- |
| Bellows Falls | June 10 | September 10 |
| Burlington | June 8 | September 7 |
| Chelsea | June 15 | August 6 |
| Dorset | June 27 | August 26 |
| Montpelier | June 24 | September 2 |
| Newport | June 13 | September 4 |
Virginia
| Station | Last Frost | First Frost |
| --- | --- | --- |
| Bedford | May 14 | September 24 |
| Burkes Garden | June 24 | August 29 |
| Lexington | May 26 | September 23 |
| Lynchburg | May 11 | October 2 |
| Norfolk | April 23 | October 20 |
| Richmond | May 7 | October 2 |
| Winchester | May 20 | September 22 |
Washington
| Station | Last Frost | First Frost |
| --- | --- | --- |
| Bellingham | June 15 | September 4 |
| Davenport | July 21 | August 19 |
| Longview | June 3 | September 29 |
| Seattle | May 14 | October 10 |
| Spokane | June 6 | September 7 |
| Vancouver | June 1 | October 11 |
| Walla Walla | May 2 | October 4 |
West Virginia
| Station | Last Frost | First Frost |
| --- | --- | --- |
| Beckley | June 13 | August 31 |
| Elkins | June 10 | September 21 |
| Fairmont | June 1 | September 19 |
| Hamlin | May 30 | September 20 |
| Martinsburg | May 21 | September 17 |
| Parkersburg | May 18 | September 23 |
| Wheeling | May 20 | September 27 |
Wisconsin
| Station | Last Frost | First Frost |
| --- | --- | --- |
| Ashland | June 28 | August 22 |
| Green Bay | June 9 | September 10 |
| Janesville | May 27 | September 16 |
| La Crosse | May 25 | September 17 |
| Milwaukee | June 1 | September 17 |
| Wausau | June 5 | September 9 |
Wyoming
| Station | Last Frost | First Frost |
| --- | --- | --- |
| Casper | June 20 | August 28 |
| Dixon | July 13 | August 12 |
| Jackson | August 3 | July 31 |
| Laramie | July 8 | August 14 |
| Powell | June 10 | September 3 |
| Rock Springs | June 29 | August 23 |
| Sheridan | June 29 | August 29 |